FAIR MANUFACTURING BALE PROCESSORS
The 7200-LM Bale Processor is the first-of-its-kind, loader mounted, engine driven bale processor designed for wheel loaders. Leading the industry in speedy and efficient bale processing, the 7200-LM is perfect for bedding, feeding, and stockpiling.
Fully self-contained, the 7200-LM gives the operator full control over the 270 degree rotating spout for perfect material distribution.
Our 7200-LM Bale Processor gives loader users the unmatched ability to shred bales in any condition.
Easily Attaches to Front End Loaders
Self-Contained Engine Driven Unit
Simple Design Generates Unmatched Processing Efficiency
3 Bale Capacity
Load Bales from the Ground or Stacks
Wireless Controls
Bunk Feeding and High Discharge Bedding up to 65'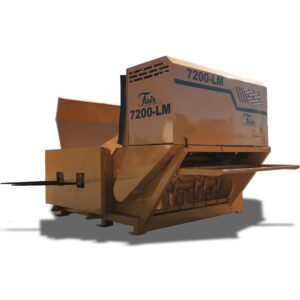 The self contained diesel engine provides power directly to the shredding rotor which discharges the material through a large opening. This simple design virtually eliminates plugging problems as wet material has nowhere to hang up on as it is expelled directly off of the flails into the air.
This design also permits bedding over gates and panels or bedding into barns by simply elevating the processor with the loader carrier.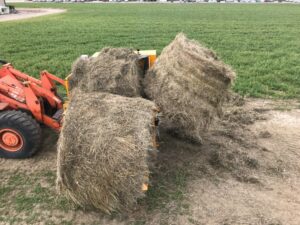 The side wall opposite the rotor can be lowered down to carry a third bale.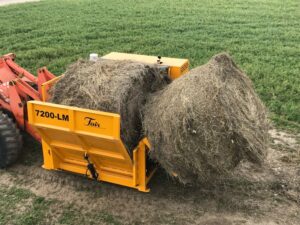 Spear loading loading enables bales to be loaded from the ground or from stacks without disturbing other bales. Optional forks also easily attach to the lift.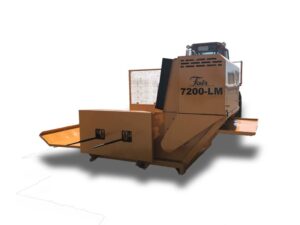 The 7200-LM has its own self-contained engine, electrical, and hydraulic system, requiring nothing from the loader carrier. This enables fast and easy hookups.
The hydraulic slug bars allow the operator to decrease knife exposure as the bale gets processed down to a smaller core for complete control of discharge volume.  (standard on all models)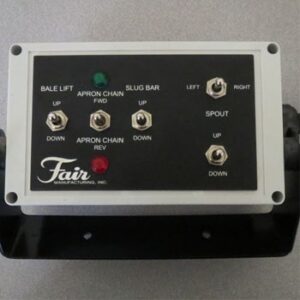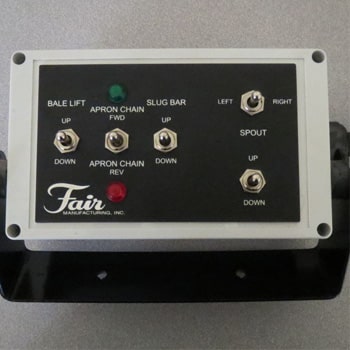 Wireless in-cab controls allow the operator to control all of the functions of the 7200-LM processor.
The hydraulically operated door enables operators to bunk and windrow feed or fan out hay for bedding from the convenience of the cab.
The patented parallel running bars create separation between the twine and rotor, allowing the operator adequate space to insert a cutting tool for easy twine removal.
| MODEL | 7200-LM |
| --- | --- |
| Horsepower: | 170 HP |
| PTO: | 1,000 |
| Hydraulic Remotes: | None |
| Bale Size Capacity: | 6x6' - 3 Bales |
| Slug Bar Adjustment: | Hydraulic |
| Controls: | Wireless, In-Cab |
| Length: | 8'6" |
| Height: | 7'0" |
| Width: | 10'0" |
| Weight: | 7,000 lbs |
TOUGHEST EQUIPMENT ON THE MARKET.
JOIN OUR MAILING LIST
Sign up to receive our latest innovations & products
FAIR MANUFACTURING builds equipment you trust in the worst field conditions. We know you have a reputation to uphold and a community who relies on you. Our products have been tested, tried and abused in the field for over 50 years.