SNOCRETE® LOADER MOUNT SNOW BLOWERS
SNOCRETE® LOADER MOUNT SNOW BLOWER
The Most Aggressive and Durable Commercial Snowblower on the Market
The 948D Snocrete® is our largest industrial snow blower which easily attaches to wheel loaders. This model is ideal for free casting and truck loading.
The Snocrete design is proven tough for over 50 years in the harshest winter conditions. The single stage twin fan design is ready to take on hard packed snow and whatever is hidden beneath with industry leading resistance to foreign objects. An easily detachable power unit, makes this model unique and ready for quick and easy maintenance as well as significantly lower future replacement costs as the blower head can be replaced separately from the power unit.
The 948D model is our large capacity loader mount snow blower.  If you need a different sized snow blower to fit your wheel loader, consider our 639D compact snow blower model or our 842D mid-size snow blower.  Compare our loader mount snow blowers.
Efficient Single-Stage Design
Detachable Power Unit
Replaceable Ice Breaker Cups
Telescoping Truck Loading Spout
Wireless Controls
Excellent Operator Visibility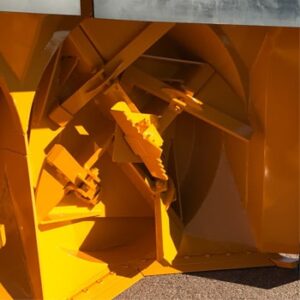 Snocrete's® twin fan single stage design moves more snow per horsepower than the two stage competitors. When the snow hits the fan, the snow is projected directly up the spout in a single fluid motion. In a two-stage design, snow hits the augers and is then carried to the fan where it is projected up the spout. The snow's direction/inertia is changed three times!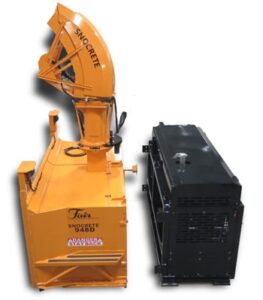 Power Unit easily detaches from blower head in minutes, allowing for easy maintenance access to all components. Since the blower head can be replaced separately from the power unit, it saves you from significant replacement costs.
Lower Replacement Cost
Future replacement costs are lower as the blower head can be replaced separately from the power unit.
Eliminate Downtime
Virtually eliminates downtime as blower heads can be interchanged among power units.
Uncouple Quickly
Engine power unit quickly uncouples in minutes creating complete access to both the blower head final drive as well as both sides of the engine.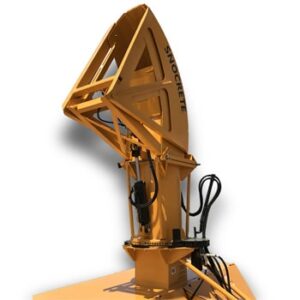 Allows for free casting and/or truck loading. The contoured design prevents discharge from splintering in the wind.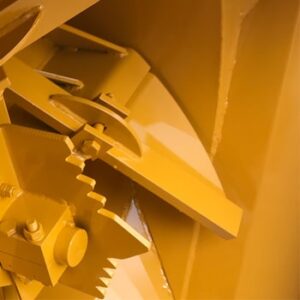 Break up snow and ice while gathering from the corners for an easy and even feed. Easily replaceable cups work in parallel with shear bolts. Shear bolts protect against radial shock loads. Bolt on ice breaker cups protect against axial shock loads. Together the machine has unmatched protection against foreign objects minimizing downtime with easy serviceability.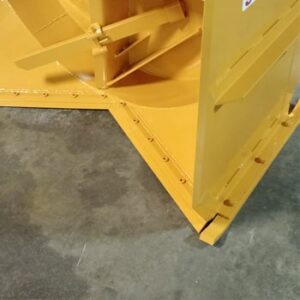 Extended length skid shoes extend the wear life.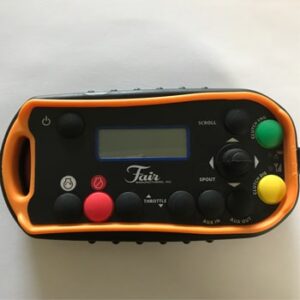 Each unit comes standard with a control panel mounted on the power unit as well as a wireless transmitter that includes joystick spout control.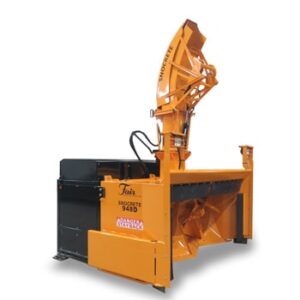 Side Draft Compensator - Hydraulically operated wing prevents the blower from being sucked into a snow bank or down a ditch when side cutting.
Working Lights
Bolt-On Curb Protector - Heavy duty rub rail that mounts to the side of the blower to allow for working against curbs and rails.
Snow Wheels - Adjustable caster wheel mount to the rear of the power unit and work in tandem with the skid shoes.
Large 4 bolt double roller piloted flange bearing to absorb radial and axial loads.
Large head-treated shafts.
Long shaft gripping hubs to absorb shock loads and prevent sprockets from sliding on shaft.
Self-lubricating system (oil bath on D models)
270° spout rotation.
COMPARE SNOCRETE® LOADER MOUNT SNOW BLOWERS
TOUGHEST EQUIPMENT ON THE MARKET.
JOIN OUR MAILING LIST
Sign up to receive our latest innovations & products
FAIR MANUFACTURING builds equipment you trust in the worst field conditions. We know you have a reputation to uphold and a community who relies on you. Our products have been tested, tried and abused in the field for over 50 years.